I pretty much keep my brain in Evernote.
Someone gives me a business card, I scan it into my contacts with Evernote's iPhone app.  I read an article or find a website I might want to cite later, I clip it to Evernote using the WebClipper Chrome extension.  I see something at the Museum of National History that I could use in a lesson plan, I take a picture and tag it in Evernote so I can find all my ideas for "colonial America" later.
Evernote has added a number of options to saving content over the past few months and I was delighted when they integrated NYTimes Cooking.  I've saved a wide range of recipes for meals that I will dream of cooking but probably never actually make.  Good thing I have a list in Evernote of restaurants to try!
The latest update includes clipping YouTube videos to your Evernote account – the perfect addition to my curriculum materials collection!  Now, when I find a video that I want to work into a future lesson or blog post, I can save it to Evernote and tag it with the related topic(s) to make it easy to find later.
First, make sure that you have the WebClipper for Chrome or Safari.  Once installed, you'll see a small elephant head in your browser's tool bar. Now, when you find a video you want to save, click on the Evernote/elephant icon.
Options include selecting the notebook within Evernote where you want your note to reside, tagging, and  adding your own comments.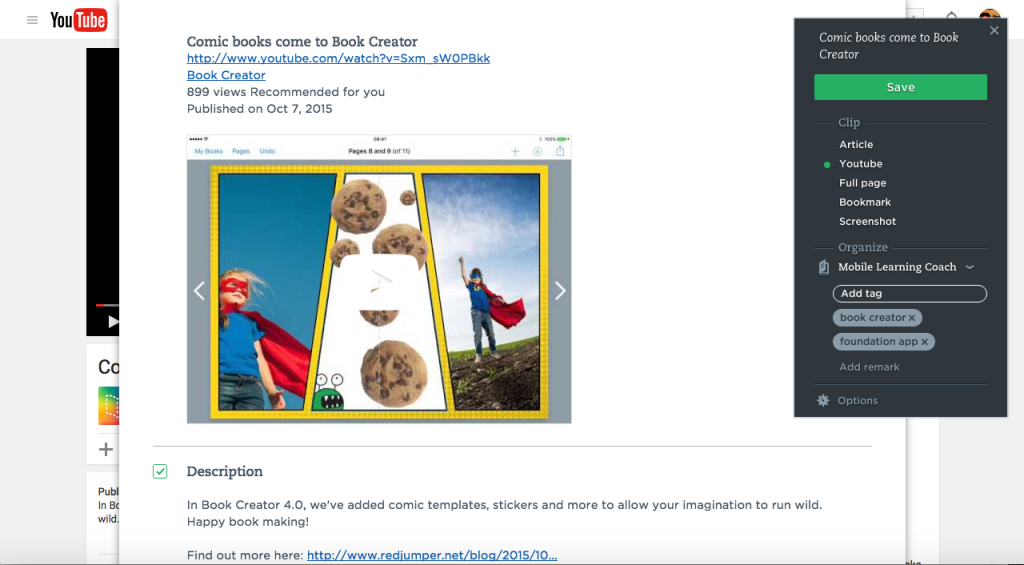 Click Save and Evernote generates a new entry in your notebook complete with a screenshot of the video, link, and description.  A quick search of my account for "book creator," "foundation app," or "digital storytelling" will bring up my saved YouTube entry as well as other resources I've curated, all stored together in Evernote.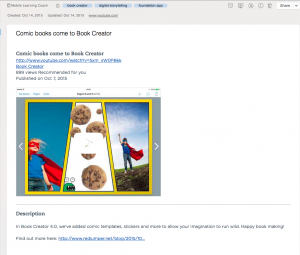 Happy clipping!